Featured News - Current News - Archived News - News Categories
NBWA 75th Annual Convention
by steve_DELETED1614792795
Product Demonstration Showcase
Mon, Sep 10th 2012 09:00 am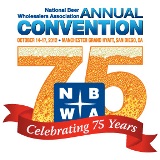 Westmatic truck wash systems will be on display at the 2012 NBWA Convention in San Diego, California. The conference is being held from October 14th-17th at the Manchester Grand Hyatt. The Product Demonstration Showcase, which we will be an exhibitor for, is on Monday, October 15th, 2012 from 12:00PM-4:30PM.
Be sure to visit Booth #809 to learn more about Westmatic Large Vehicle Wash Systems!
The conference is a great opportunity for Westmatic to highlight ways of helping beverage distributors maintain clean fleets while reducing their cost of operation. Since Westmatic bus wash, truck wash, and train wash systems were designed around the European market (whom pays up to 4x the amount of water and electricity as North America), Westmatic's vehicle wash systems use HALF the amount of water, electricity, and chemical as traditional wash sytems.